Dentistry For Children Encourages Healthy Dental Habits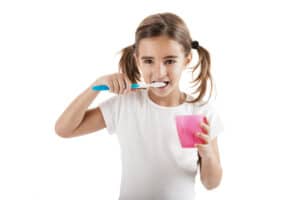 Is your child less than thrilled when it's time to visit the dentist? As we know, the thought of a dental checkup can sometimes leave a sour taste in your mouth. As much as we want to avoid the dentist, it's crucial to find the right pediatric dentistry for children as early as possible.
Choosing the right pediatric dentistry for children can be initiated as early as infancy.  When it comes to dental hygiene, it's just as important to instill good dental habits as it is to encourage good manners. When you attend those new parent workshops, you most likely will not find a chapter that includes the importance of children and oral health.
Choosing the right pediatric dentist is the first step to instilling healthy oral hygiene habits. Finding the right pediatric dentistry for children is one of the many ways to instill the lifelong importance of maintaining a healthy smile.
Your first step in teaching healthy dental habits is with Lowell's most trusted pediatric dentistry for children, Kangaroo Smiles. Dr. Mona, Dr. Simon, and their friendly staff make dental visits fun. In addition to providing preventative care, we give you tips and tricks to encourage good oral hygiene at home. Your child will be equipped with the knowledge to properly floss and brush teeth from childhood to adulthood.
Did you know that children as young as two can develop cavities?  Infants and toddlers are just as susceptible to tooth decay and gum disease if dental care is ignored. Some contributing factors can include excessive sugar intake and lack of (or improper) brushing and flossing.  When you choose Kangaroo Smiles for your children, we strive to instill the importance of proper oral hygiene.
Hop Into The Best Dentistry For Children In Lowell and Methuen, MA
Kangaroo Smiles will ensure each child and parent feels comfortable. As part of our philosophy of providing comprehensive and preventative care, we offer suggestions you can apply to your everyday life.  Our suggestions will encourage:
Healthy Habits – As the parent, you play a crucial role in implementing healthy habits in your home. One of these responsibilities includes limiting junk food, highly processed foods, and food and beverages that contain high amounts of sugar.
Stay Active – Not only does participating in physical activity keep your body in shape, but you are emulating a healthy lifestyle. A healthy lifestyle can influence healthy oral habits.
Dental Visits – Dentists not only clean and check your teeth for cavities, but they can also detect any future issues.
If you're in need of a pediatric dentist for your children contact us today 978-425-1496.