Putting a smile on kids' face with a dentist in Lowell, MA.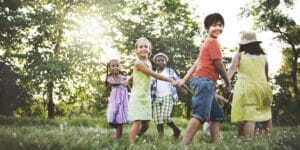 Since 2015, Dr. Mona, Dr. Simon, and the whole Krew here at Kangaroo Smiles have been providing first-rate care as your pediatric dentist in Lowell, MA.
We're passionate about helping our city's youngest citizens develop healthy dental habits and beautiful smiles for life.That focus drives all we do and how we do it—from the iPads in the waiting room and TVs on the ceiling, to our careful explanations of all procedures. Whether routine check-ups or or an invasive procedure, we love to communicate in simplicity for a language that kids can relate to.
(Be honest: Don't you wish your childhood dentist had talked about "sleepy drops" for the "sugar bugs?")
In Lowell, Kangaroo Smiles makes a child's dental appointment as positive and pleasant an experience as it can be. In fact, grown-ups tell us their kids actually look forward to coming back. One mom told us her kid is the only kid she's ever known who was "excited to get a cavity filled!"
Favorite Kids' Dentist in Lowell, MA is Expanding to Methuen Soon
The great response we've gotten in Lowell to our dedicated, gentle, educational, and fun approach to pediatric dentistry is now allowing us to expand our practice.
As you might have heard, Kangaroo Smiles will be hopping over to a second location in Methuen, MA very soon, and we're getting excited!
Just 20 miles or so up the interstates, we'll be introducing Methuen's young teethers, brushers, and flossers to the same comfortable, conservative and preventative, and exceptionally kid-friendly care that kids here in Lowell already know and enjoy!
You'll soon find everything that makes Kangaroo Smiles the best kids' dentist in Lowell at 413 Broadway in Methuen:
A dentist's office kids like to visit – Dr. Mona and Dr. Simon know kids' earliest experiences in dentists' offices can influence their future dental health behavior for better or worse (as the American Academy of Pediatric Dentistry recognizes). Our Methuen office will have the same kid-friendly decor and delights you've loved in Lowell, from the colorful paintings on the walls to the ever-popular toy machine. Dental visits are important—but don't have to be imposing!
Monthly "Super Special Kids" contests – The CDC says 83% of U.S. children aged 2-17 saw a dentist in 2014, so any kid who's getting regular dental care is already a winner. But we've enjoyed rewarding some of Lowell's best brushers, most faithful flossers, and bravest patients. Our contests are really about teaching and reinforcing healthy dental hygiene during children's formative years. We look forward to high-fiving the kids with Methuen's "super shiniest smiles," too.
Expert, professional, and friendly pediatric dentists and staff – Our people make our practice great. "Sweet," "patient," "very fun and friendly" – our patients' grown-ups describe Dr. Mona, Dr. Simon, and the whole Kangaroo Krew with words like these. Soon we'll be giving families in Methuen the same warm welcome and highly trained experienced dental care we've been offering here in Lowell for the last two years.
We're thrilled we'll soon be helping kids and their families in Methuen build good oral hygiene and healthy smiles for life. And once our second location is open, we hope you'll stop in to see us there.
In the meantime, discover more about Kangaroo Smiles' services right here on Bartlett St. near downtown Lowell or schedule an appointment by giving us a call at (978) 425-1496.